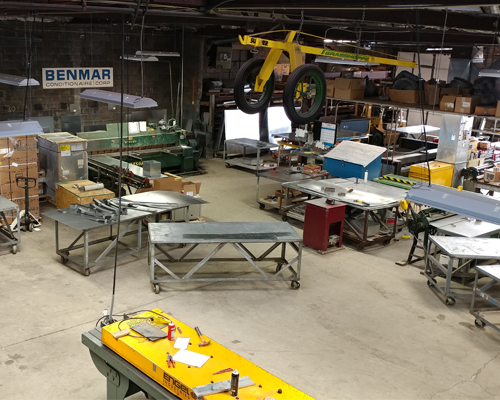 Founded in 1947, Benmar has been a leader in the New Jersey HVAC industry. With over 70 years of HVAC experience we continue to look to provide great quality commercial work, within your project budget.
Benmar is a turn-key HVAC contractor.  We have an in-house engineering department, a full sheet metal fabrication shop as well as sheet metal installers, pipe fitters and a HVAC service company all under one roof.
While being one of the most established HVAC companies in the area, we have continued to explore and test new technologies within our industry. We were one of the first companies to use variable air volume and DDC controls in our designs and we continue to stay informed of developments within the industry.
Benmar has an extensive portfolio of work including various Mack-Cali properties, the USGA Headquarters, Dual Brand Hotel in Teaneck and many design/build office fit-outs.  We work on plan and spec HVAC jobs as well as design/build.
Benmar was founded by Ben Jaffe and the work at that time was primarily in the residential marker.  We grew quickly under the leadership of Marvin Stockel and began to enter the commercial and industrial market in the early 1960's.  Marvin had the foresight to build a business around designing air conditioning and heating systems rather than just installing.   The first commercial buildings that Benmar designed were warehouse offices, bowling alleys, and religious houses of worship.  In the 1970's, Benmar was at the forefront of the building boom in Northern NJ.  We were one of the first to design VAV systems for office buildings and when everyone else was still using pneumatic controls, we had advanced to electronic controls with remote access through direct telephone lines.   When Benmar designs a project, we do the entire HVAC project from start to finish and beyond with service and maintenance.   Some of the buildings that we designed in the 1970s, we still service today.